The Shellfish and Sushi Bar
The restless ocean has everything to do with the flavours of the seafood served so close to the old harbour. There are few better spots to indulge in lemondrenched oysters. The hake and chips are always popular, but do also give the wonderfully rich and spicy bouillabaisse a try.
Trading Hours
Open 7 days a week weather permitting
Sunday - Tuesday : 11h00-16h00
Wednesday - Saturday : 11h00-20h00
Closed: Christmas Day & New Years Day
Corkage
Red or White Wine - R 20 per bottle
Restricted to two bottles per table of four guests
Service Charge
Service charge is not included except for tables of 6 or more guests
Contact Details
Cell : 082 043 7913
For event enquiries, please contact alastair@shellfishbar.co.za
For restaurant reservations, please book online
or call 082 043 7913
GPS Co-ordinates
N 20 40.810
E 19 00.783
Recent Reviews
"Excelent sushi and delicious calamari"
My wife and I have visited this venue quite a few times in the last year. You will not easily find better sushi in the Overberg, and the calamari is yummie! The views over Walker Bay and Kleinmond Harbour make up for the occasional bottleneck in service on busy, sunny and bright weekends. Not a silver service restaurant, and they do not profess to be one either! If you have time on your hands and enjoy looking at the ever changing ocean, this is a good place to relax with your significant other and a glass of wine - a very good wine list with mostly a "local is lekker" theme.
For the hungry big boys - try the fish and calamari combo. You will battle to finish it all, and good value for money too!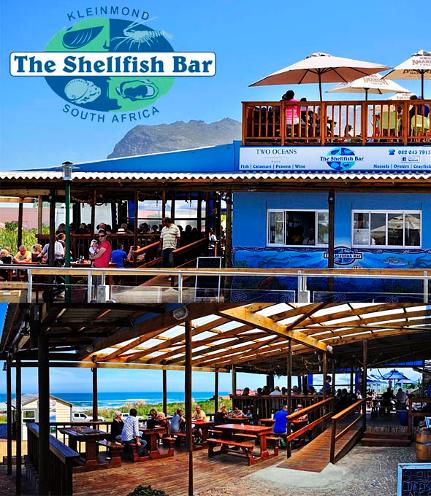 Copyright © Harbour Road
All Rights Reserved
Page Designed and managed by Catfish Joe Productions - www.catfishjoe.co.za