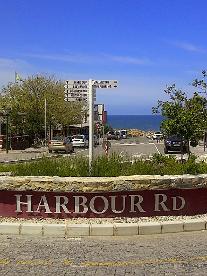 Harbour Road Market - First Sunday of every month
Be prepared to feast on homemade produce such as free range chicken pies, fresh crusty loaves of bread, divine pancakes, fish cakes and cupcakes. A plus this week is fresh fish from the harbour. All products are local, made and produced slowly as nature intended, with lots of love and care. Load up on your last-minute shopping and support the local crafters.
www.eatout.co.zaArtworks by local Overstrand artists will be exhibited and a number of clothing (such as May Bru) and jewellery stalls from as far as Cape Town will be displaying their unique products.
The market is in the converted shed at the lower end of Harbour Road and is the only covered market in the area.
Copyright © Harbour Road
All Rights Reserved
Page Designed and managed by Catfish Joe Productions - www.catfishjoe.co.za