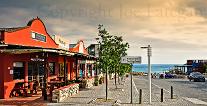 Community benefits from this project
In July 2003, the previously disadvantaged communities of Kleinmond, forged an agreement between the different community interest groups to establish a vehicle in which their interests would be held. Kleinmond Community Investment Holdings (KCIH) was born and was able, as a united body, to negotiate with Wharfside Developments for the acquisition of an equity stake in the Harbour Development. This led to a Heads of Agreement being concluded as the first step towards broader community participation.
Benefits already received
Formation and establishment of legal entities
• The local fishing community had already done much of the groundwork to establish their new fishing company, Kleinmond Marine Products (Pty) Ltd (KMP) - this holds the interests of 200 local fishermen.
• A Trust has been established and registered in the name of Kleinmond Community Development Trust (KCDT) holding the interests of 4 500 members of the previously disadvantaged communities in the Hangklip – Kleinmond area.
• Close on 500 people from four generations with direct links to those who were removed from their homes in the harbour area have come together and established the Kleinmond Fishbay Heritage Foundation Limited (KFH).
• Kleinmond Community Investment Holdings (Pty) Ltd (KCIH) has been established as a holding company in which KMP holds 20%, KCDT 20% and KFH 60%. These three bodies within KCIH give wide representation to the previously disadvantaged Kleinmond Community groups. This process was funded out of provincial and DBSA grants allocated to the Harbour Development Project.
Benefits that will flow from the project
1. Direct benefits to the Fishermen (KMP) and other harbour users
• An upgraded harbour with the necessary facilities and infrastructure like a new quay, repaired breakwater and slipway, deeper harbour bowl, increased boat and trailer parking, improved access control, toilets, open fish market, and a new permanent weigh-in and control facility for local seafishing quotas.
• Will receive 20% of the profits of KCIH from the Development which will be utilised for: - dividends to shareholders, service loans for their fish holding facility on an adjacent Erf , investments for other needs within the harbour and retail opportunities.
• New opportunities for access to tourism markets e.g. Boat-based Whale watching, fishing and sunset boat charters, area guides, adventure boating, etc.
2. Benefits to the Kleinmond Community Development Trust
• Will receive 20% of the profits of KCIH from the Development and will be utilised directly and indirectly to the above mentioned beneficiaries in projects like: bursaries for tertiary education, health and welfare, sport, youth development, training and other education programmes, religion, job creation, marine and nature conservation, urban renewal with housing projects and to establish fundraising projects for ongoing sustainability of funds.
3. Benefits to the Heritage foundation
• Will receive 60% of the profits of KCIH from the Development which will be utilised for the establishment of a local history museum, coffee shop and restaurant, heritage sites and upgrade of historical beacons and landmarks within the immediate harbour basin and for investment within the development to gain access to long term income streams;
• The rebuilding of the "Vishuis"- the original fish processing and drying facility;
• The re-establishment of the "Kerkgrot" – a rock-overhang community church in the harbour;
• Rebuilding of original fisher cottages as an important place in the community history;
• Land restitution within the development;
• A direct involvement in shaping the outcome of the planning and design of the Harbour precinct that takes cognisance of the historical links of this community;
• The harbour will once again become a vibrant, mixed-use, multi-cultural zone.
4. Other benefits
• There are strong empowerment clauses in all the agreements and contracts that will boost local employment opportunities and funding at every stage of the development and provide opportunities for local people and businesses;
• At least 200 jobs a year are being created by the project, initially in construction, but increasingly linked to boating, fishing, tourism, hospitality, retail and leisure;
• Increased economic activity in the harbour zone leading to lower crime and improved property values;
• New storm-water and sewerage systems have been introduced;
• The harbour road system has been upgraded including new traffic circles and paved parking and boat-parking areas;
• A substantial additional municipal rates income from the developed properties.
Copyright © Catfish Joe Productions
All Rights Reserved
Page Designed and managed by Catfish Joe Productions - www.catfishjoe.co.za