Joe Lategan Fine Art Gallery at Harbour Road, Kleinmond
Harbour road, Kleinmond Western Cape was the selected venue for Joe Lategan's new Photographic gallery, multi media office and bistro for a few reasons. "Firstly I always thought to it would be great to be based in what is called the "Worlds greatest biosphere" for a nature photographer firstly due to the opportunities it presents To capture the diverse species and land and seascapes over a long period and secondly the tranquility as a base ensures that one is in the right frame of mind should you do the so important editing following lengthy road trips. Last but not least it is a not too commercialized location so it allows the gallery to be marketed as a destiny as it is not located on a major route detracting from the authenticity"
All round professional creative and fine art photographer
Joe is regarded as one of the best all round fine art outdoor photographers.
Besides being a master outdoor fine art photographer, Joe also creates outstanding visuals that assist corporations in effectively communicating their strategic intent to the global markets and to improve appetite of their products and services through multimedia including amongst others, creative still photography web development, graphic design, video, social media, publishing and various forms of media. Visit- www.catfishjoe.co.za for more commercial information.
Using the Overberg in the Cape Town area and Bloemfontein as basis' we have an International client base and travel extensively. We pride our self's as world class still photographers / videographers for collectible fine art, documentaries, commercial film work,interior decoration, events and multimedia as well as web developers, graphic designers and publishers amongst others for corporations that don't accept average visuals as good enough"
An exclusive and creative fine art photographer of wildlife, nature, landscape especially trees, seascapes, wildflowers, rocks and a wide variety of other subjects also in the black and white medium. Joe Lategan produces undoubtedly some of the most beautiful and memorable fine art photographs on Southern African Biodiversity including Landscapes, seascapes, wildlife,wild flowers, trees, and also general nature also in black & white. Joe further produces world class images in colour and black and white for collectors, decorators, corporations, publications , web and other media or product and event photography. Joe's personal range of selected "artography" images are for those that are looking for a print of photo art in vibrant colours to match their decor. Bringing old buildings and historical places to life and giving meaning and character to them is what Joe Lategan is able to do with his heartfelt, breathtaking photography.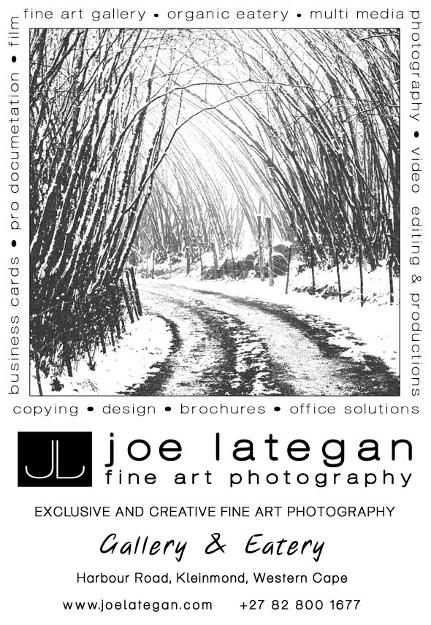 Copyright © Catfish Joe productions
All Rights Reserved
Page Designed and managed by Catfish Joe Productions - www.catfishjoe.co.za